Our agile methodology helps you achieve your goals in weeks, not months – and we're still there for you with support and training to keep your website humming.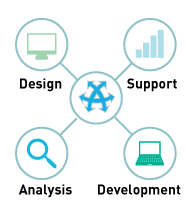 Analysis
Getting the plan right in the beginning means your project runs smoothly. We take the time to understand your needs and business processes. Complex workflow is described in User Stories. Agile and iterative is our mantra, but we like to get it right the first time by taking the time to listen to you.
Design
We want to show your work looking its best. We can develop website themes based on advice from your graphic designer, or you can choose from a selection of tried-and- tested themes that we can customise to suit your branding. We develop responsive themes that look great on mobiles, desktops, and tablets.
Development
Our experienced software engineers develop your new website using an agile methodology, which means flexibility to make changes based on your feedback during the project. You'll have your own login to our development server. We provide several training sessions as development progresses, so you become the expert in your new website.
Support
Once your new website is launched, we can provide ongoing support and updates to protect your website security and keep everything running smoothly. This can include training for new staff, fixing bugs or errors, and making changes to reflect your evolving business.
Project Timeline
Every project and every schedule is different. But to give you an idea of the process, a typical project looks like this: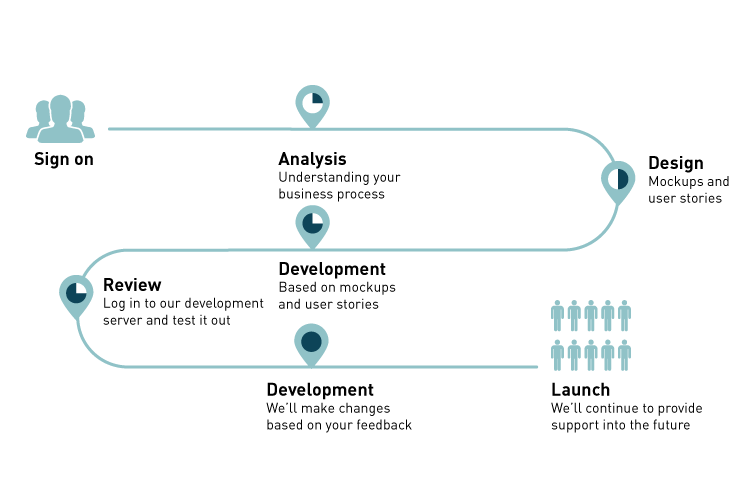 At Agileware we want you to feel informed and empowered during the progression of your project so there are no surprises. Your project manager will be in regular contact to discuss progress and seek your feedback.
A typical small project takes around 4 weeks from Sign On to Launch. Larger projects can take 2-3 months from Sign On to Launch.
Why WordPress?
More than 60 million websites. More than 17% of the world's websites. An active developer community contributing code, plug-ins and themes. Here's even more reasons to choose WordPress:
Simple to use — If you can create a document, you can create content on a WordPress website. Format text, insert media such as images, video or audio, and publish now or on a schedule.
Open Source — Thousands of plug-ins add to your site's functionality without writing custom code
Plays Well With Others — WordPress uses existing standards and connects with web services, and integrates with CiviCRM
Built for Collaboration — WordPress makes it easy to customise access control for different types of users
Beautiful Design — Show your content at its best without the cost and time of custom theme building by using one of thousands of existing WordPress themes.
Flexible functionality — Use WordPress to build the website you want: ecommerce, blog, portfolio, news, online community, corporate portal, or anything else you can think of.
Cost Effective — WordPress is free of license fees, which means your budget goes towards great design and features
Easy eCommerce — online shops built using WordPress are easy to set up, simple to maintain, and secure to use
Quality Standards
Agileware includes the following testing as a standard part of any website development project:
Cross-browser compatibility — Your website should look very similar for users on any of the latest version web browsers (eg Google Chrome, Apple Safari, Firefox, and Microsoft Internet Explorer). For users who have an outdated web browser, a message should appear prompting them to upgrade to the latest version.
Responsive design for mobile devices (including passing the Google mobile-friendly test).  This has an impact on your Google search engine ranking.
WCAG compliance with W3C Web Content Accessibility Guidelines, Version 2.0, Level AA. The Australian Human Rights Commission requires that Australian web sites comply with this version and level.