More than 12% of the world's top 100,000 websites are powered by Drupal. It's scalable, flexible, secure, and can be integrated with other systems. Agileware have been building using Drupal since Drupal 4.5 (2002). We have the expertise to develop, maintain and extend your website.
Our agile methodology helps you achieve your goals in weeks, not months – and we're still there for you with support and training to keep your website humming.
Analysis
Getting the plan right in the beginning means your project runs smoothly. We take the time to understand your needs and business processes. Complex workflow is described in User Stories. Agile and iterative is our mantra, but we like to get it right the first time by taking the time to listen to you.
Design
We want to show your work looking its best. We can develop website themes based on advice from your graphic designer, or you can choose from a selection of tried-and- tested themes that we can customise to suit your branding. We develop responsive themes that look great on mobiles, desktops, and tablets.
Development
Our experienced software engineers develop your new website using an agile methodology, which means flexibility to make changes based on your feedback during the project. You'll have your own login to our development server. We provide several training sessions as development progresses, so you become the expert in your new website.
Support
Once your new website is launched, we can provide ongoing support and updates to protect your website security and keep everything running smoothly. This can include training for new staff, fixing bugs or errors, and making changes to reflect your evolving business.
Project Timeline
Every project and every schedule is different. But to give you an idea of the process, a typical project looks like this: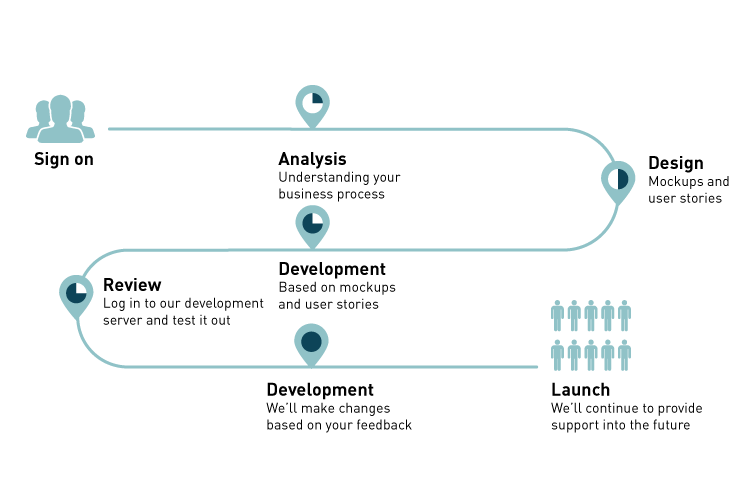 At Agileware we want you to feel informed and empowered during the progression of your project so there are no surprises. Your project manager will be in regular contact to discuss progress and seek your feedback.
A typical small project takes around 4 weeks from Sign On to Launch. Larger projects can take 2-3 months from Sign On to Launch.
Why Drupal?
More than a million websites. More than 12% of the world's top 100,000 websites. More than 30,000 developers actively contributing code and more than a million drupal.org users. Here's even more reasons to choose Drupal:
Enormously Scalable — Some of the biggest, most visible, and highest-trafficked sites in the world run on Drupal, including examiner.com, whitehouse.gov, and 71 of the top 100 universities
Open Source — Thousands of modules on drupal.org add to your site's functionality without writing custom code
Plays Well With Others — Drupal uses existing standards and connects with web services
Built for Collaboration — As a multi-user CMS, Drupal makes it easy to customise access control among users
Choose Your Own Adventure — Drupal workflow and rules can reduce manual processing and free up your time
Design to Suit You — Drupal themes create highly usable, interactive experiences that engage and amaze users
Cost Effective — Drupal is free of license fees, which means your budget goes towards great design and features
Proven High Security — A dedicated Drupal security team, together with Drupal's vast developer community, seeks out and patches issues – often before they've been spotted in the wild. Used by government agencies worldwide.
Some of our favourite features
What you can build is limited only by your imagination. These are just a few of the features we've had fun implementing:
Member Forums — Pinterest-style layout. See what other members are saying, and how many comments and likes they've generated. Includes user avatars/photos and tags to make finding interesting topics easy
Google Maps — Make it easy for website visitors to find a member in their area. Great for associations or networks
Authoring Workflow — Jane creates content → Frank reviews content and publishes → Sally revises content
YouTube, Vimeo, Soundcloud — It's a multimedia world. Embed video and audio content and keep users engaged
Faceted search — Make it easy to find anything with faceted search that includes PDF and Office file attachments
Social media integration — Display RSS feeds, Facebook, Twitter, and more on your website.
Online surveys and quizzes — Find out what users think, grade online learning students, and keep users engaged
Multi-lingual subsites — it's a global world, make sure everyone in your target demographic can read your content
Online shop — with secure payment processing for credit cards
Members Only area — make sure your most important website users know how valued they are by providing secure access to members-only content
Quality Standards
Agileware includes the following testing as a standard part of any website development project:
Cross-browser compatibility. Your website should look very similar for users on any of the latest version web browsers (eg Google Chrome, Apple Safari, Firefox, and Microsoft Internet Explorer). For users who have an outdated web browser, a message should appear prompting them to upgrade to the latest version.
Responsive design for mobile devices (including passing the Google mobile-friendly test).  This has an impact on your Google search engine ranking.
WCAG compliance with W3C Web Content Accessibility Guidelines, Version 2.0, Level AA. The Australian Human Rights Commission requires that Australian web sites comply with this version and level.