More networking, less effort
One way to understand what a CRM does is to think of your personal address book with enhanced capabilities. Imagine that every time you make a phone call to a given person, your address book automatically makes a note of it, together with brief description of the conversation. It can also decide whether to ask this person for a particular favour, based on whether she did this favour for you a week ago, and schedule a follow-up meeting following the call. After using this address book for a while, you could ask "What were my interactions with Ji Lao?" or "How many people helped me this month?" and it would give you the whole history.
Now let's say you're organizing a dinner party and you want to invite all the people you've met during the previous year. Just write the invitation and tell your address book to send the email. You don't have to worry about anything else after this point (apart from preparing the dinner!). Your address book handles the RSVPs from all invited guests, together with information about who is vegetarian and who is not. It even lets you know two nights before the event how many people you can expect.
It would be great to have such an "assistant", right? Organisations need one even more. It's hard to remember all of your meetings, phone calls and other forms of contact (especially over the long term), but the more you know about the people and organisations you interact with, the more successful your work will be. You'll be able to target your message to specific groups, because you know who will be interested in specific topics, and you'll be able to observe their reactions and adjust your next interaction, and continue to improve how you talk to different groups.
Who uses CiviCRM?
Non-profits of all sizes are using CiviCRM, including: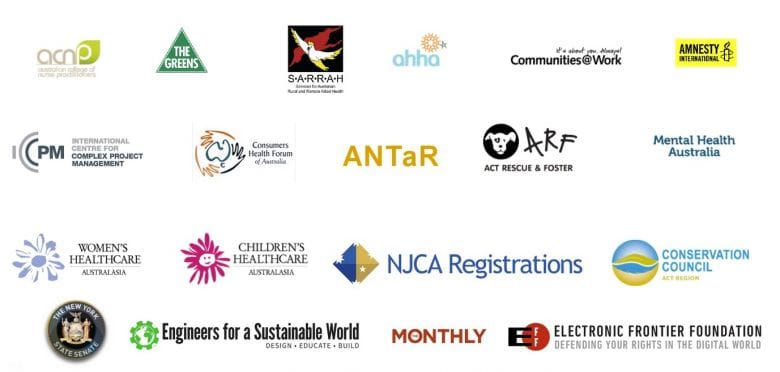 CiviCRM can help you by:
getting rid of multiple spreadsheets, lists, and address books that have to be manually updated and matched
reduce administrative time to run events, such as checking dietary requirements or processing payments
improve membership renewal rates by sending automated reminders and enabling online renewals
reduce issues as a result of miscommunication because multiple people are talking to the same contact
make it easy to see how many members you have, and your total reach
increasing donations and contributions by making it easy to pledge support or run campaigns, including personal campaign pages in the style of Everyday Hero
all this with no ongoing license fees, and the support of the open source CiviCRM community for improvements
What Can CiviCRM Do?
store all contacts in one place – no more mismatched address books or missing phone numbers
track relationships between organisations and individuals, including employees, volunteers, and family or household members
manage memberships, including online join and renewal processes and automated renewal reminders
record customised data about contacts that is unique to your organisation
record activity with contacts including email, phone, meeting, contributions or payments, and newsletters
send targeted emails including newsletters
manage campaigns, surveys, and petitions
manage online payments securely using eWAY or Paypal » manage events, including online RSVPs, printing name tags or attendee lists, and sending automated emails
produce detailed reports on any data in the system, including membership numbers, locations, events attended, or customised data about your contacts
Why CiviCRM?
The best tool to connect, communicate and activate your supporters, your clients, and your community. Here's why:
Designed for your community — Unlike other CRM software, CiviCRM was designed for the community sector
Open Source — Thousands of community members contribute to ongoing improvement and updates
Integrates easily — Integrates with Drupal, Joomla, and WordPress to automate membership and payments
Access anywhere — As a web application, information can be accessed and updated anywhere, anytime
Secure — Regular updates from the core development team, supported by thousands of community members
Great value — With no license fees, your can put your budget to work on the things that matter to your members
Features in every installation
CiviCRM helps you record and manage information about your members. Features include:
Contact Manager — Keep all your contacts in one place, with records of relationships, conversations, and more
CiviContribute — Secure online payment processing, search and report, share data with accounting software
CiviEvent — Online event registration management for paid and free events, training workshops, and conferences
CiviMember — Manage memberships, automatically update membership status and send renewal notices
Agileware also includes these features as standard in every CiviCRM project:
SMS — Communicate with your contacts via individual or mass SMS text messages. Great for event reminders, links to online surveys or special offers, or for times when you need a faster response than email
Data visualisations — Interactive charts and graphs for use in your reports. Great for infographics or sharing on social media. Ask us about customised data visualisations to meet your specific reporting needs

Our CiviCRM Services
Our agile methodology helps you achieve your goals in weeks, not months – and we're still there for you with support and training to keep your system humming.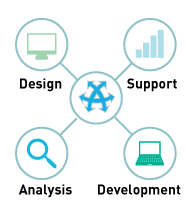 Analysis
Getting the plan right in the beginning means your project runs smoothly. We take the time to understand your needs and business processes. Complex workflow is described in User Stories. Agile and iterative is our mantra, but we like to get it right the first time by taking the time to listen to you.
Design
We want to show your work looking its best. We can show you what online membership or event registration forms will look like in your website, or layouts for your email newsletter that fit your branding. We use responsive design, so your content will look great on mobiles, desktops, and tablets.
Development
Our experienced software engineers develop your new CiviCRM installation using an agile methodology, which means flexibility to make changes based on your feedback. You'll have your own login to our development server. We provide several training sessions as development progresses, so you become the expert in your new system.
Support
Once your new system is launched, we can provide ongoing support and updates to protect your website security and keep everything running smoothly. This can include training for new staff, fixing bugs or errors, and making changes to reflect your evolving business.
Project Timeline
At Agileware we want you to feel informed and empowered during the progression of your project so there are no surprises. Your project manager will be in regular contact to discuss progress and seek your feedback.
A typical small project takes around 4 weeks from Sign On to Launch. Larger projects can take 2-3 months from Sign On to Launch.