Get support for your CiviCRM system from Agileware. We have expertise in fixing CiviCRM bugs, applying patches, deployment new modules, configuration changes, importing data and giving you advise based on our experience working with many other CiviCRM customers.
The subscription cost can save you hundreds of dollars per month compared to paying by the hour for training or developer support, and means no unexpected invoices or time-consuming quote approval process. Agileware also offers a CiviCRM Support – Essentials subscription at a reduced price. When you need help, we're on call.

CiviCRM Support
CiviCRM Support entitles you to the following support services provided by Agileware:
Support services for 1 CiviCRM production database, which represents a single CiviCRM installation, and 1 to 3 named individuals representing the Customer
Respond to user and CiviCRM administration requests via email and phone
Perform CiviCRM system configuration changes
Investigate reported CiviCRM bugs and errors
Trouble-shooting other reported problems with the CiviCRM installation
CiviCRM Updates
Keeping your CRM software up-to-date is like getting your car serviced regularly – it can help prevent costly and inconveniently timed repairs down the track. All software – whether it's your desktop operating system or your cloud-hosted CRM – is vulnerable to security risks or errors if patches and bug fixes are not applied regularly. To keep your CiviCRM running smoothly, Agileware can apply these updates for you, saving you time and worry.
Here's the process we use to keep your software updated and running smoothly: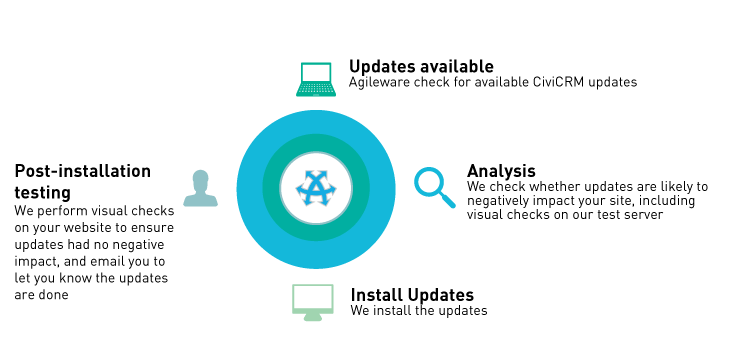 CiviCRM is updated every 1 to 2 months. The release schedule for CiviCRM is available online: http://sourceforge.net/projects/civicrm/files/civicrm-stable
Agileware will perform updates to the CiviCRM installation to the current stable release every 2 to 3 months.
CiviCRM Updates entitles you to the following update services provided by Agileware:
Regular CiviCRM software updates for your nominated CiviCRM installation, generally every 2 to 3 months
Determining when when and which CiviCRM updates should be applied
Reasonable effort testing prior to installation of CiviCRM updates