Agilehost is Agileware's multi-cloud hosting service for Drupal, WordPress, and CiviCRM. This services includes the following features:
Great uptime. From 2014 to 2015, we had no server crashes or unexpected outages at all! In June 2016, there was an extended outage in AWS Sydney, read more on the Agileware Blog about this event.
Phone and remote hosting support by Agileware staff in Australia
Hosting in a data centres located in Australia or other locations around the World.
Complete management. Agileware manage all the technical details
Agileware ensures that your website stays online, and will trouble-shoot and solve any issues
Automatic daily backups, sent to off-site servers
Option for automatic backups sent directly to a Customer's nominated server via SFTP or SCP. Additional fee applies for set up and ongoing service.
Management of Domain Name Services (DNS) for your hosted Domain Names
Capability to have multiple websites hosted on the one account
Option for dedicated IP addresses and SSL certificate
Domain name registration and SSL certificate management, never miss a renewal again
Agilehost Standard Plan
Suitable for most associations, businesses and organisations:
7.5 GB disk space
50 GB monthly bandwidth
Up to 10 MySQL databases
Up to 10 domains or sub-domains
Price: $500 per year, ex GST
Agilehost Business Plan
For organisations that need to store more files and data on their website(s):
22.5 GB disk space
75 GB monthly bandwidth
Up to 15 MySQL databases
Up to 15 domains or sub-domains
Price: $1,000 per year, ex GST
Agilehost Enterprise Plan
Double the disk space and bandwidth, for large and high-traffic websites:
45 GB disk space
150 GB monthly bandwidth
Up to 20 MySQL databases
Up to 20 domains or sub-domains
Price: $1,500 per year, ex GST
Need a dedicated platform or even something bigger?
Agileware can design and deploy a hosting platform for your unique requirements. Contact us today to tell us what you need.
CloudFlare Free & Pro
By default, Agileware will add your domain to a CloudFlare Free plan, managed by Agileware. However, we highly recommend adding CloudFlare Pro to further improve website performance and security:
Includes Wildcard SSL certificate for increased security, trust, regulatory compliance, and a better Google search engine ranking.
CloudFlare's Content Distribution Network (CDN) distributes your content around the world so it's closer to your website visitors, speeding up your site.
Security against DOS, SQL injection, cross site scripting, excessive bot crawling, and other attacks, with automatic learning of new attacks.
Protection against comment SPAM.
One of the world's largest DNS networks – fast, powerful, and secure.
CloudFlare's Rocket Loader and other WCO services ensures your page renders as fast and efficiently as possible.
Agileware manage your CloudFlare configuration as part of the hosting service.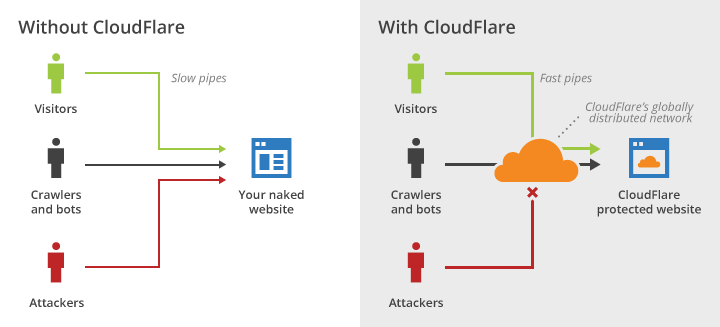 CloudFlare Pro is much better value than simply paying for an SSL certificate and dedicated IP address, and comes with a range of security and performance improvements for your website that will result in a better experience for your users.
CloudFlare Pro, price: $420 per domain, per year, ex GST
CloudFlare Free, price: Free! (Yes, that's right $0!)